Let's start from the beginning…
FV Bank was founded in 2018 by two payments entrepreneurs. Miles Paschini and Nitin Agarwal knew that investing in cryptocurrencies and other alternative asset classes would become an essential part of investment portfolios in the future.
We're a challenger bank based in Puerto Rico, US, started as a global digital bank. Since 2018, we've grown to become a full-service bank that seamlessly integrates traditional banking and digital assets management into a single regulated account.
Licensed by the Office of the Commissioner of Financial Institutions, FV Bank has an ambitious roadmap to deliver an exceptional experience for its blockchain, crypto, and fintech customers.
We're pursuing success in digital customer engagement and acceleration of innovation. Over the past years, FV Bank entered into dozens of strategic partnerships with tech giants and has been approved as a Visa Principal Member.
The team that redefines digital banking globally and shapes the future of financial services includes industry veterans, passionate innovators, and visionaries.
Meet the FV Bank Founding Team!
Miles Paschini, Co-Founder and Chief Executive Officer at FV Bank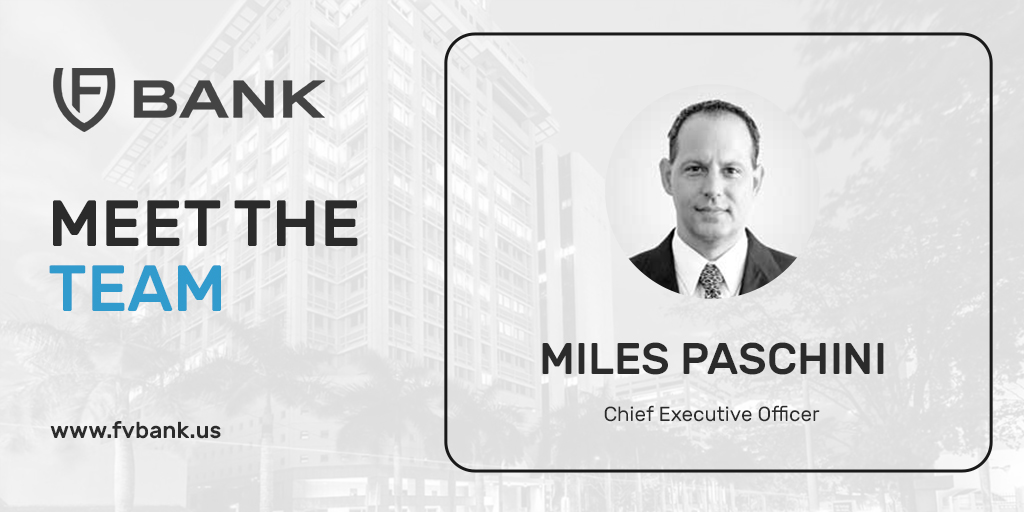 Miles is an investor and serial entrepreneur with almost 30 years of experience in building innovative businesses in mobile and financial services markets and operating experience with multi-national teams focused on strategy, business development, and product solutions.
He has been founding, managing, operating, and financing start-up and growth-stage companies in the payments sector. His background includes extensive experience in various aspects of the payment processing industry, including banking, card issuing, acquiring, electronic money issuance, remittance, and cash loading networks.
Miles has seven issued patents related to payment processing services and was the founder of EWI Holdings. Recently, Miles developed internationally award-winning debit card products which have been implemented by the industry's leading e-wallet and settlement operators in more than 70 countries.
Nitin Agarwal, Co-Founder and Chief Revenue Officer at FV Bank
Nitin is an investor in fintech and a payment product specialist with over 15 years of experience in building financial services products and marketing and selling them on a global scale. He is a co-inventor of the industry's leading debit card products adopted by users in over 70 countries.
Nitin has a keen interest in cryptocurrencies, blockchain, banking, fintech, and embedded finance products and in-depth knowledge of payment processing. He has worked with companies like First American, PayPal, and Wave-Crest. Nitin specializes in building wallet products for cross-border payments.
Nitin is a frequent speaker at various international forums and conferences on payments.
Now that you've met Miles and Nitin, we hope you'll stick around and meet the rest of FV Bank's stellar team. Keep your eyes peeled for our next post.