FV Bank is set to appear at the world's largest annual Bitcoin celebration – Bitcoin 2023 in Miami!
FV Bank is excited to be part of this important gathering as a bank that recognizes the unique banking requirements of fintech and blockchain businesses. The Bitcoin 2023 conference is designed to bring together industry leaders, activists, and enthusiasts to network, learn, and explore all Bitcoin offers. This year's Bitcoin conference will feature 150+ speakers and showcase 2000+ companies.
If you're a fintech, blockchain, or digital asset-focused business looking for a dedicated USD bank account, meet us at the conference and explore our vertically-integrated suite of traditional banking and digital asset custody services.
Stop by our booth 732 in the Miami Beach Convention Center. You can also pre-schedule a chat with us here: https://www.fvbank.us/meet-fvbank-at-consensus-2023.
Catch us on the Main Stage at the Conference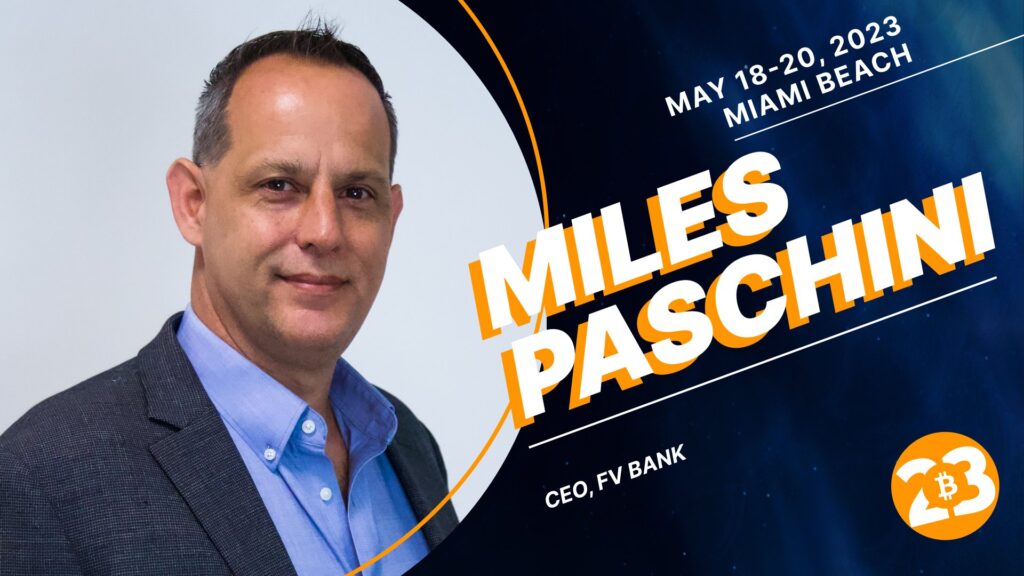 At the conference, FV Bank CEO Miles Paschini will feature in a panel discussion on "The FED vs The Financial System" on the Main Stage alongside Mark Connors, Caitlin Long, and Ram Ahluwalia, moderated by Dylan LeClair from Bitcoin Magazine. The discussion will provide an opportunity for Miles and the other panellists to share their expertise and insights on digital assets and banking with industry leaders and enthusiasts.
In addition to the panel discussion, Miles will make an important FV Bank product announcement on the main stage. This announcement is highly anticipated and is sure to attract a lot of attention from conference attendees.
FV Bank's presence at the Bitcoin Miami 2023 conference clearly demonstrates our commitment to supporting the growth and development of the crypto and blockchain industries.
We're a Proud Sponsor of BTC Miami
We'll be sponsoring the Bitcoin Conference this year as well! And if you're booking your conference passes, use our promo code "FVBANK" at the time of the purchase to receive 10% off your ticket purchase. See you in Miami
The Countdown to BTC Miami is ON!